Fulcrum Computer
---
Measurement Systems and Controls Inc.
Model DMD 6400 Memory Board

---
Cromenco ZPU Processor Board


---
---
---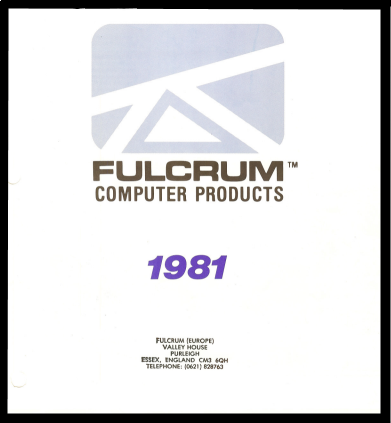 I was a friend and business partner to a Boise State University professor in the early 80's, I am not sure where he acquired this computer. but Io my knowledge if was never used.
I acquired it from him in the '80s. It has been in storage in a semi-arid climate since then. I was planning on getting it functional again, but my interests have changed.
The internet says:
Fulcrum was started by Bruce Wright of WW Component Supply, who competed with Tom Fischer to buy remaining inventory at the IMSAI bankruptcy sale in the early 1980s. Fulcrum was eventually sued and had to cease and desist but not before a few of these systems were sold.
The above was forwarded to me by Steven Stengel - http://oldcomputers.net
From this, I assume it was from the IMSAI stock he acquired and put his brand on it. I have yet to find out how many he sold but it sounds like it was VERY few.
Fulcurm Compter S-100 Buss #1LL
A few other items came with this system and are a small pin-fed dot matrix printer and a monitor. I will include them as part of the purchase.
I also have 6 each 8 inch floppy disk drives. Two are the Shugart Models 801 S/N K14883and S/N A87438. The other four are MFE Model 700 S/N 11473, M700 S/N 15372, M700 S/N 15374, M700 S/N 16882, and M700 S/N 15374.
---



See Shugart Drives for Pictures of the two Shugart 8 inch Floppy Drives I have.